office team
REIGN'S Office Team shares core roles and responsibilities based on each member's individual skills and interests, from funding and finances, to networking and impact evaluation.
We are a dynamic and creative team, thriving off one another's energy and supporting each other through any challenges. Elicia and Zoe established REIGN as a CIC in 2019 and Seph and Katie joined the team in 2023.
From right to left: Elicia, Zoe, Seph and Katie.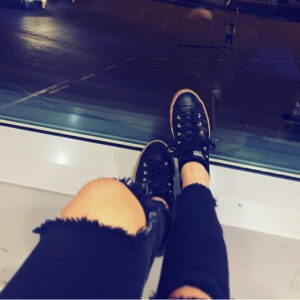 Elicia
Being one of the co-founders and directors at REIGN means my time over the last six years has been dedicated to making the business flourish, I also qualified as a counsellor and psychotherapist in 2020 and recently became a youth worker helping girls break down gender barriers so they can fulfil their potential. My carer choices are always linked to my personal experiences and being an expert by experience means I can give more to my roles because at some point I knew what I needed from professionals in the roles I now hold. Growing up in Moss Side taught me the importance of a strong community and made my passion unbreakable for helping people realise they have the skills within themselves to achieve their biggest dreams. I am a reflection of how our pasts can shape us even when facing the most difficult situations. I am proud to be a survivor and a working-class, mixed-race woman that created a life for myself from the ground up.
zoe
I am a doctoral student and postgrad teaching assistant in the social care and social work department at Man Met University. My research focuses on how professionals working in organisations addressing male violence against women manage decisions and outcomes around disclosing their own survivor-status to colleagues. Before coming to REIGN I worked as a cartoonist/illustrator and an art gallery assistant. I am passionate about feminism and have a special interest in the care system, disabilities, and complex trauma. When not focusing on all that, I enjoy skating, playing the piano, and helping run a creative mental health themed community and comedy club in Oldham. (linktr.ee/theucb)
Natalie
I work within adult inpatient services, supporting adults with complex and enduring mental illnesses. In the past, I have worked with young people with autism and learning disabilities, both in the education system and in the community. I am passionate about educating individuals on child sexual exploitation and the longstanding trauma it creates. I have a particular interest in educating professionals on the ever-expanding use of technology in CSE and the safety of children online. In my free time, I find relaxation in watching the sunset, enjoying long walks with my four-legged companion, and recharging with family and friends.
Maria
I am an experienced professional, having worked in both the charity sector, and within statutory services. I have worked with vulnerable adults in many different roles, and have delivered VAWG, homelessness, offender, and trauma informed services. I have worked extensively with survivors of VAWG and am an advocate for the safeguarding, rights and dignity of women and girls. I am dedicated to amplifying the marginalised voices of the community, and passionate about women's empowerment. I have first hand experience of the process of recovery and use my experience to empathise and support others to reach their full potential. I believe that everyone, no matter what their background, has the potential to thrive. My favourite role to date is being a mother to my beautiful daughter! We love roller skating and travelling.
Siobhan
I am a social work master's student and work as a support worker for children and adults with learning disabilities. The work REIGN does to raise awareness amongst professionals is vitally important and I am proud to be a part of it. I like to call myself an advocate, by raising awareness of CSE and the complex factors associated with it, with the aim of a more trauma-informed professional response. When I get time, I enjoy spending time with my family and friends, reading and going to the gym.
Katie
I have a wealth of experience in youth work and charity work as well as working as part of grassroots organisations in working class areas throughout the North West. I previously studied Youth Work and Community Development at MMU. Having been through the court process as an adult, I am very passionate about the treatment of survivors during the disclosure and legal process, as well as at any other stage post exploitation/abuse. I strongly advocate for better access to health care and therapeutic support for victims of CSA/E, as I believe that this is essential to aid healing from sustained trauma. Working with Reign allows me to reclaim my own experience and use it to positively impact others. I am a proud mother, feminist and activist. I firmly believe in equality for all genders, races, sexualities and abilities. Outside of my work I enjoy gaming, attending live music shows, comedy and spending time with my daughter, partner and dog!
Seph
I'm a firm believer that nobody should be limited by their experiences or circumstances to do what they want in life; my experiences meant that I left school at age 11 and didn't receive qualifications past GCSE-level. I'm now a freelance lived-experience consultant, having previously provided consultancy for mental healthcare organisations. I am also co-founder of First Do No Harm, a user-led action group seeking accountability and reform across inpatient psychiatric services (www.first-do-no-harm.com). I'm passionate about using my own lived-experience of CSE/A to help professionals understand the pervasive impact of trauma, how they meaningfully support survivors and work collaboratively to embed trauma-informed cultures in services supporting children, young people and adults. In my spare time, you'll usually find me with my head in a book, researching a random topic or walking along the river with my sausage dog and collecting interesting-looking stones, much to my partner's dismay!
Chloe
I am an undergraduate student studying Public Health with the hope of making change to mental health services on a policy level once I graduate. I've got extensive experience working in early years and I love that I am able to use both my lived experiences and knowledge of childcare and education to promote trauma informed practice and improve safeguarding. I am also passionate about how we approach mental health care for survivors and creating a world where everyone can lead the best lives they can. I'm a creative person and in my free time I love to write and paint and my favourite thing to do is to go to the theatre!
OLAYKA
I'm a BA (Hons) graduate in Media, Culture, and Communication. This enabled me to examine the social, cultural, and political significance of mass media, popular culture, and the communications industries. I have over eight years of experience as a professional creative in the marketing and advertising sectors, working with a diverse range of global clients. One of my main passions is gaming. Gaming is my escape, and after exploring many methods of escape, I've found that gaming is something I always return to, which is why I founded OJUNI (see: linktr.ee/Ojuni). OJUNI is rooted in video game culture and is focused on building a friendly and welcoming gaming community free of prejudice and discrimination. As a creative, it is critical for me to be able to express all aspects of myself, including a healthy outlet for my trauma. REIGN has helped me with this by making it possible for me to use my experiences as a survivor to help.
Guy PARKER
I am a council officer, working on policy and strategy, with a background in corporate lobbying and the charity sector. I've been involved with REIGN for several years, supporting with business planning and development. It's been a privilege to see REIGN's growth from a youth-led project to a market-leading service. REIGN'S training and consultancy is much needed, as demonstrated by their glowing evaluations and repeat customers, so it's fantastic to see the organisation going from strength to strength and making a real difference.
Katie Hill
I am a qualified social worker with experience of working with children, young people and families within a range of different settings and services including child protection, fostering, adoption and voluntary agencies. I currently work in social work education and am passionate about ensuring social workers and students are able to work to the best of their ability for the individuals that they are working with. I believe that social workers need to understand, engage and learn from people with experience of the services being provided and this is how I have come to know REIGN and why I am excited to be on the advisory board.
Judicial College
"REIGN gave a presentation for us at the Judicial college and were incredible. We all now feel so much more informed and able to understand the effect our decisions have on young people."
HHJ Andrew Berkley
Frontline
"It was the most impressive day I've seen, and everyone got a huge amount out of it – staff and students.  Your facilitators were outstanding, and the exercises brilliant."
Chris Hemsley, Principal Practice Tutor